So much fun!
Last night was
the Cockettes
DVD release party for
Elevator Girls in Bondage
at the Bleecker St. Theater.
Jiddy
and
Richert
came with me to perform.
Rumi
hosted and was such a doll. My
hunky co-star
Joseph Keckler
did an excerpt from his show
Human Jukebox
and there wasn't a dry seat in the house. When introducing Keckles, Rumi said "I know our next performer through my friend
La JohnJoseph
, who is no longer living--er, no longer with us. Who we miss very much." Which I thought was appropriate. La JJ is, in fact, dead. Which means that any time you see her out and about, that SHE'S BACK FROM THE DEAD. Trust. Other beloved familiar faces were
Darlinda Just Darlinda
, who did a fucking amazing Passover burlesque piece involving Nina Simone and infanticide. Trust.
Glenn Marla
did his new piece about 'Face Masturbation', which I think is just gorgeous. Glenn and Darlinda and I performed together the last time the Cockettes had a big NYC show, as La JohnJoseph's dance troupe. Nostalgia. It was an amazing show. Topped off by thee legendary
Rose Wood
. I was terrified to meet her, but she was so. fucking. nice. Isn't it always the way? I was in the bathroom and I had to pee but she was just outside the stall getting ready for her act, and I got stage fright and couldn't pee. She performed last, and did her infamous whiskey bottle number. If you don't know, I won't deprive you the complete delight of seeing her perform it.
This is a photo of our performance. Apparently my microphone was too quiet for the first half of the song but that's fine with me. I'd rather be too quiet than too loud. Cute, no?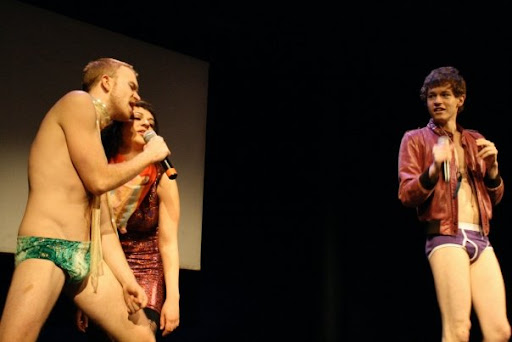 Photo by the fantastic
Lee Kyle
.
I'm eating
my favorite food in the world
, right now. My internet is broken at home, it is beyond annoying. I'm never home during normal business hours to call TimeWarner, though. I have this insane dread and I don't know why. Everything is cool! Chill out! Maybe it's because of my dream last night.
My parents were just in town last week, we hung out a bit and had a great time. They flew home to California on Friday. In my dream, however, they decided not to fly home. They flew instead to Europe, because my mom wanted to go to Europe. And then my dad insisted that if they were going to Europe, that they would have to go to Italy, since he really wants to go there. Then after their European jaunt, in my dream, they showed up back in NYC. They were tanned, and drunk, and had handfuls of mixed foreign currency but it was all coins. And they were broke and I had to take care of them and I was so angry at my eurotrash parents because I've never even been to Europe (yet) and I didn't wanna hear their stories about it. I think I had this dream because I was watching that Piaf biopic right before bed. Probably.
Hey look at this flyer for a really cool show I'm gonna do on Saturday night: